The Bosphorus and Bosphorus Trip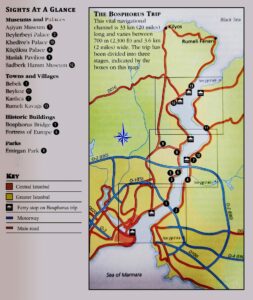 IF THE NOISE and bustle of the city get too much, nothing can beat a trip up the Bosphorus, the straits separating. Europe and Asia, which join the Black Sea and the Sea of Marmara. The easiest way to travel is by boat. An alternative is to explore the sights along the shores at your own pace. For much of their length, the shores are lined with handsome buildings: wooden waterside villas known as yalis, graceful mosques, and opulent 19th-century palaces. The grander residences along the Bosphorus have waterfront entrances.
These date from the days when wooden caiques, boats powered by a strong team of oarsmen, were a popular form of transport along the straits among the city's wealthier inhabitants. Interspersed between the monumental architecture are former fishing villages, where you will The Bosphorus is especially popular in summer, when the cool breezes off the water provide welcome relief from the heat of the city.